BIM model exchange :
Model exchange is a key element in the BIM process. Exchanges must function reliably (no loss or alteration of information). CRTI-B & BuildWise have always defended the OpenBIM approach, with a view to avoiding software oligopolies and allowing everyone to work with the software of their choice, as long as it is OpenBIM-certified. With this in mind, mock-ups should generally be exchanged in IFC format.
As you can see, it's not easy to manage an IFC model exchange correctly. In addition to managing the information in the native mockup, IFC mapping has its own set of rules to be respected (Pset, Qto, predefined types, etc.). Each person involved in a project must therefore invest a considerable amount of time in creating these configurations, without necessarily achieving a perfectly satisfactory result. Added to this are two other problems:
Poor or incomplete implementation of the IFC format in some modeling software, in export and/or import, depending on the MVD (Model View Definition) and IFC schema (IFC 2×3, IFC 4).
Poor or incomplete implementation of the IFC format in IFC visualization tools.
In addition to the complexity of software implementation, modelers are faced with different requirements for each project. They have to reconfigure IFC properties and mappings for each project, and repeat this tedious work.
A common standard to simplify life for all players: Level Of Information Need (EN 17412)
Each project has its own specific requirements, which depend on the BIM use cases requested by the client and the operator, as well as on certain use cases practiced by the designers. It is possible to classify these different needs: "minimum requirements", which take up the usual needs; additional requirements grouped by specific BIM use cases. In 2017, CRTI-B developed the GID sheets, which define the minimum requirements for the BIM model, broken down into G=Geometry – I=Information – D=Documentation. The requirements evolve as the project progresses, and have been unified between Belgium and the Grand Duchy of Luxembourg. These requirements are useful for project owners, who can use them as a starting point to define their needs and then add their own specific complementary requirements. This approach should make it possible to standardize a large proportion of project owners' expectations in terms of digital mock-up, which should lead to time savings for designers as they move from one project to another.
Tools available: GID and IDS sheets
1) GID cards are available in several forms:
A web browser for consulting the geometry, information and documentation requirements of current construction objects, as well as the mapping of different objects in IFC. Possibility to comment and post questions/comments/suggestions for all content.
An XLSX file containing the content of the online pages, this editable document enables a project owner or BIM manager, for example, to draw up information requirements on a standardized basis.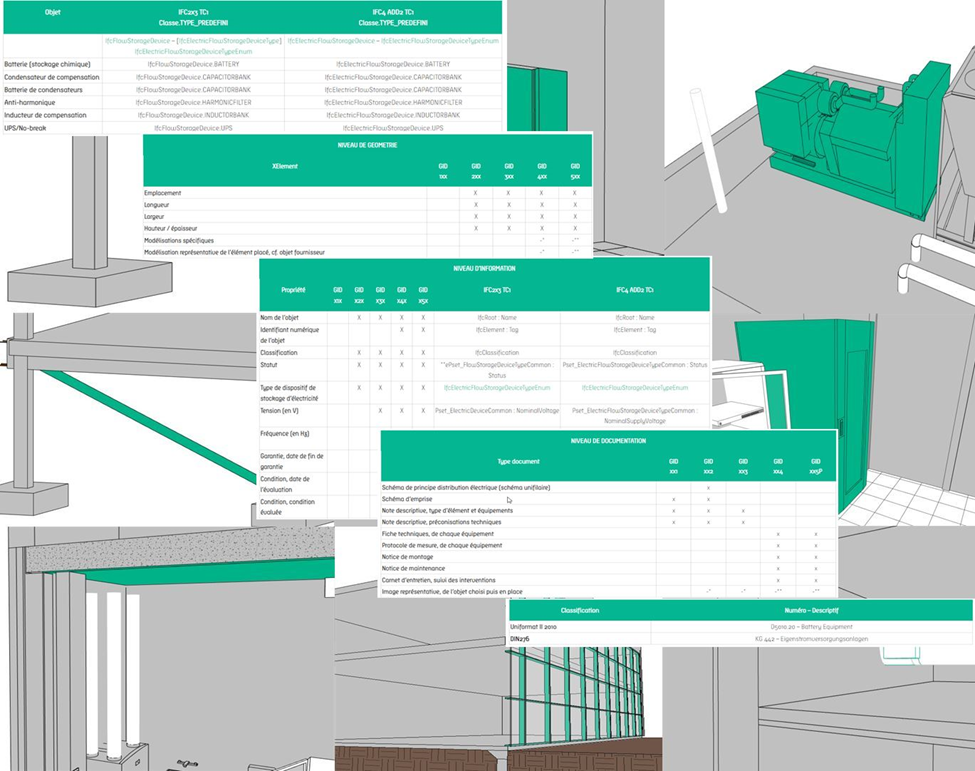 2) IDS: Information Delivery Specification – configuration files :
Today, we're taking interoperability support a step further by offering :
Configuration files for various modeling software (Revit, Archicad, Allplan to come…) to automatically implement the required properties by object category at each phase of the project.
Configuration files with all parameters for IFC export, taking into account implemented properties
A step-by-step assistant to guide you through the various stages, with videos.
This approach automates property implementation and IFC mapping as far as possible.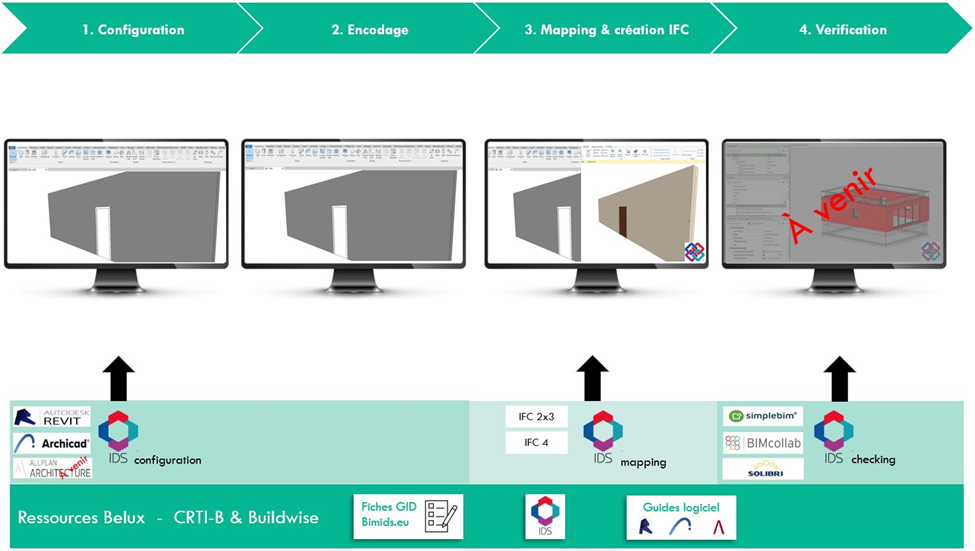 Workshop program :
INTRODUCTION – 20 minutes
TRAVAUX PRATIQUES – 60 minutes
QUESTIONS & ANSWERS + CONCLUSION – 10 minutes
IMPORTANT INFORMATION:
Participants will be asked to carry out the manipulations during the workshop, so they will need to have ArchiCAD software installed (ideally version 24, 25 or 26).
Speaker: Hélène Dewint – BIM advisor, Architect, Digital Construction at Buildwise
Speaker: Charlie Boon-Bellinaso – in charge of BIM Luxembourg strategy and standardization at CRTI-B